Winter services by Greenlawn for landscape and hardscape
Before the winter snows fall, call Greenlawn to mark your landscape beds, berms and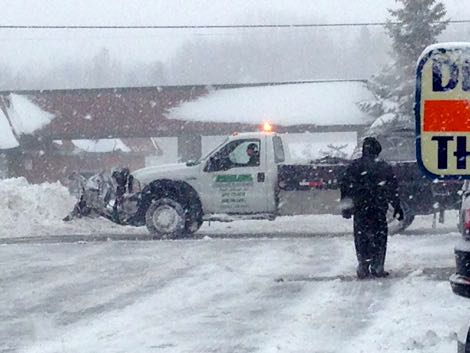 curbs with reflective stakes to help protect them from overly aggressive snowplow operators, who often do their work at night.
Better yet, hire Greenlawn for snowplowing, salting and hand shoveling of walkways. Our customers receive premier snow removal service on a timely basis and in a responsible manner.
We've all seen snowplow operators driving like maniacs, probably because they've taken on too many customers.
That's not Greenlawn's way. We do not overbook our snow services.  Please sign up early so your business parking lot or residential driveway will not be left out in the cold.
Do your trees and shrubs — especially new and vulnerable plantings — need protective wrapping or an anti-dessicant in winter? Call Greenlawn. The mist from salt trucks can damage shrubs and ornamentals. And the health of evergreens, including your showpiece rhododendrons, can be undermined by winter's strong, drying winds.